This is Barbie if she had aged normally.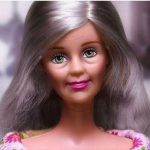 Back in the 70s there was a Clairol hair dye commercial that said, "You're Not Getting Older—You're Getting Better," and the ad went on to imply that even though I was getting older, I could look younger if I used their product. At that point in my life, I wasn't really concerned with the effects of aging because I was in my 20s. Now, however, I not only see the signs of aging, I feel them, too. I have asked myself, "What can I do about getting older?" Of course, the answer is obviously "nothing," so my questions have turned into, "How much do I really care?" and "What's wrong with being and looking older anyway?"
"Old" has become a pejorative in our culture. It has come to mean useless, undesirable, and even burdensome to mankind. It implies that because we've lost our youth, we've also lost our purpose and influence. We have just become (or becoming) lumps of flesh held together by Spanx and Polygrip. As time grows older in me, I find that I have to consistently dismiss the lies that say I have lost my reason for living simply because I'm not 21 anymore. The fact is: I don't want to be 21 again. Or 31—or 41… Though I want to look my best, I don't even want to look "youthful" anymore, because that will start a whole new struggle that will keep me obsessed with plastic surgery or products that will "lift" me to my younger self. I don't need anymore struggles.
Former First Lady Eleanor Roosevelt, who was not known for her physical beauty once said, "Beautiful young people are accidents of nature, but beautiful old people are works of art." Mrs. Roosevelt has been dead now for many years, but she is quoted often because of her wisdom and insights that speak, and will continue to speak, to men and women for centuries to come. Her beauty was inside and she knew it. That's what made her beautiful.
There are others who have spoken to the process of aging—some with great wisdom for me these days.
 "For the unlearned, old age is winter; for the learned, it is the season of the harvest." Hasidic saying
 "I will be refined by age, not defined by age." unknown
"There's always a lot to be thankful for if you take time to look for it. For example, I am sitting here thinking how nice it is that wrinkles don't hurt." unknown
"And in the end, it's not the years in your life that count. It's the life in your years." Abraham Lincoln
Aging is inevitable. 1 Peter 1:24 says, "All people are like grass, and all their glory is like the flowers of the field; the grass withers and the flowers fall…" James 4:14 states, "…Why, you do not even know what will happen tomorrow. What is your life? You are a mist that appears for a little while and then vanishes." (NIV)
I can neither reverse time nor its effects. So, I refuse to let aging define me or to stop me from living my life to its fullest. Yes, my knees hurt, but my wrinkles don't. I do feel as though these are days of harvest. Seeds that I have sown, especially the ones in good soil, are now just starting to come up and bloom and bear fruit. And I'm still here trying to convince myself that I'm getting older and getting better.